Workshop dates 2019
WE can do all our courses in the EVENINGS on request
Master Gel Nail Extensions
Course runs over 3 days
(for Beginners mainly)
Cost €450 - Deposit €150
September 8th, 15th & 29 (exam day)
November 3rd, 10th & 24th (exam day)
November 17th, 24th & Dec 8th (exam day)
Description
It's runs over three different days over a 4 week period. (the week day can vary) the first two day's are 10-4 pm, there is then a weeks gap to give you time to get as much practice in as you can. On the third day we cover your practical exam (you will need a model for this 10-12.30 pm)
Everything you will need, will be supplied for you during the course . All you need to do is turn up. You will also receive a Full Kit

The cost of this course is €450, a deposit of €150 is required to secure your place. (Remaining balance of €300 payable on the day)
Also included in the price is your exam papers (all information for this is covered during the course). You will also receive your certificate (which is AIT accredited) and a step by step guide during the course, to take home to be able to refer back.
I am also contactable at my salon in town after the course if you need any additional help.
There is limited spaces available, so the course does not get over crowded. I like to make sure everyone gets proper one to one time, and feels comfortable moving onto the next step.
(you can add gel polish course to your gel extensions course for a lower prices of €150)
_____________________________________________________________________________
Proudly using Perfect Match in our courses & is also supplied in the kit, as seen on Cardi B in the latest Pepsi advert :)
This is a full day course. Kit included.
Cost €250 - Deposit €100
Sept Sun 29th (1:30-8 pm)
Evening: November Wed 13th 4-8 pm
November Sun 24th (1:30-8 pm)
December Sun 8th (1:30-8 pm)
Description
A completely new approach to manicure is our Gel Nail Polish Course.
This is to show you how to apply a gel colour polish onto the natural nail or the gel nail extension. our primary focus is to show you how to do this perfectly, avoiding any peeling, bubbles or lifting.
During our 1 day course you will learn how to apply Gel polish to natural nails with our exclusive partnership with Perfect Match polishes.
The aim of this course is to beat the competition and make sure you clients get as long from their nails as possible lasting your clients up to 2-3 weeks on the hands & 6-8 weeks on the toes.
(you can add this course to your gel extensions course for €150)
______________________________________________________________________
Spray Tan Courses
This is a full day course
(Evening workshops can be booked on request)
Cost €65
September 15th 11-3 pm SOLD OUT Due to popular demand - new course date September 14th (10-2pm)
Evening: November 6th 4-8 pm
November 10th 11-3 pm
December 4th 4-8 pm)
Description
Here at Glam Gals Galway we always help our clients prepare for the sun and to feel fabulous.
In this course we will teach you how to bring the glow to your clients whether at home or in your own salon. Being thought by the best you will have the confidence to prepare your clients for the busy holidays, festivals and every other season. This is an all year round application course.
We are perfectionists when it comes to our tan and helping all our clients feel that lovely summer glow all year round.
___________________________________________________
Nail Art Courses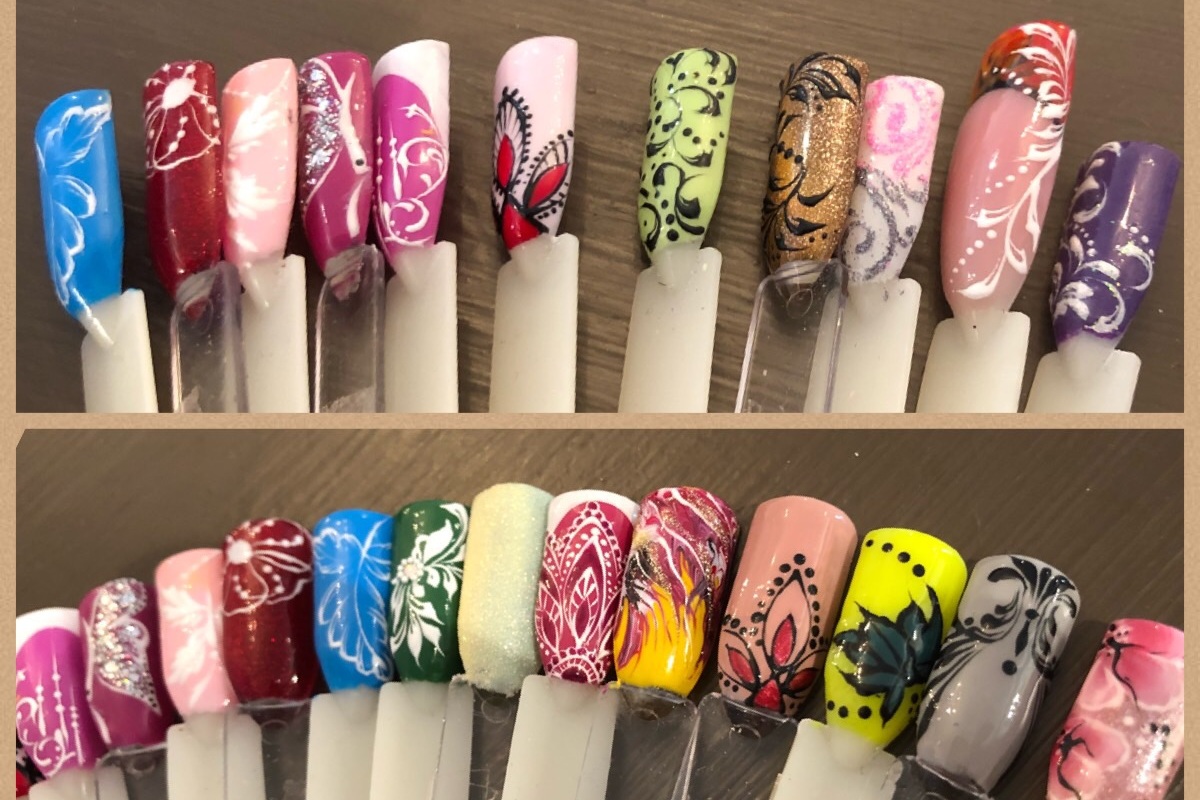 This is a full day course :)
Cost €125 - Deposit €50
September Sat 21st 10-2 pm
November 30th (CHRISTMAS THEME) 10-2 PM
Description
Nail art is spectacular and fun! It is endless and there is nothing you can't do. You get to show your personality and also help your client to show theirs. In this course you are shown 8- 10 designs step by step and then there is time in the evening for your imagination to let loose To create your own masterpieces, under the guidance of your trainer.
(In order to enter the intermediate or expert levels you must have proof of previous nail art designs/courses.)
____________________________________________________
Threading Course
You are shown two different methods during your workshop
Cost €100 Deposit €50
September Sat 14th 10-2 pm
Evening: November Tue 5th 4-8 pm
November Sat 16th 10-2 pm
Evening: December Tue 3rd 4-8 pm
Description
During this course you will be shown two different methods of threading. We do this so you can see which way of holding the thread suits you better.
Threading is used as a form of hair removal for many areas on the face. We use this method as it is less vasive on the shin compared to any other form of hair removal.